Is HPC, the flagship project for EDF now back on the right track?
Comments from UK and France are both questioning the situation.
Comments from UK
Nils Pratley- The Guardian- July 2017
EDF has admitted the nuclear project is £1.5bn over budget- we should'nt be bullied into paying more!
EDF only seems to build nuclear reactors that are late and over-budget, as witnessed in Finland and on its own patch at Flamanville in Normandy.
Yet the timing of EDF's "clarifications" is a shock.
It is very early in the life of this £18.1bn (now £19.6bn, possibly rising to £20.3bn) project to be recasting the numbers. The tricky stages of construction, like pouring the right mix of concrete, lie ahead. The additional costs relate to mundane matters, such as "a better understanding" of UK regulators' requirements and "the volume and sequencing of work on site".
These are planning areas in which EDF would surely have made allowances for uncertainties. That all that slack, and more, has been used up is puzzling.
Still, it's a French problem, right? Didn't the UK government insulate us by making EDF and its Chinese co-financier shoulder the construction risks?
Wasn't that the trade-off for the UK guaranteeing to buy all Hinkley's electricity for 35 years at twice the current wholesale price?
Well, yes, that's how the contract is structured, and EDF's UK boss was full of reassurance on Monday that UK taxpayers remain protected.
But no contract of this size is ever so straightforward, as the National Audit Office pointed out in its blistering report last week.
Comments from France
Véronique Le Billon- Les ECHOS – 4 Octobre 2017
EDF : une nouvelle direction pour les EPR anglais.
En l'espace de quelques mois, les dirigeants du projet ont tous changé. EDF se met à l'heure anglaise. Les instances dirigeantes de l'électricien tricolore – membres du conseil d'administration et du comité exécutif – se sont retrouvées ce mardi à Hinkley Point, dans le sud-ouest de l'Angleterre, pour un « séminaire stratégique délocalisé » et visiter le chantier de construction des deux EPR.
Un an tout juste après une décision d'investissement au forceps pour EDF ,
Maîtriser les délais et les coûts
Stuart Crooks était jusqu'ici en charge des 15 réacteurs nucléaires d'EDF Energy, la filiale britannique d'EDF. Désormais responsable « de la construction et de la livraison » de la future centrale, il « travaillera à la maîtrise des délais et des coûts »
Trois équipes à l'oeuvre
Trois équipes sont ainsi à l'oeuvre, avec environ 700 personnes à Montrouge (France), 850 à Bristol (Grande-Bretagne) et les équipes de construction à Hinkley Point.
Il faut aussi intégrer les équipes d'Areva dans Edvance, la nouvelle structure d'ingénierie issue de la restructuration de la filière nucléaire. « Il y a beaucoup de sujets à traiter sur la connexion entre les unités d'EDF et celles de NNB en Angleterre », jugeait avant l'été un membre du conseil d'administration d'EDF. Un chantier pour Simone Rossi, qui prendra la direction d'EDF Energy le 1er novembre, pour remplacer Vincent de Rivaz.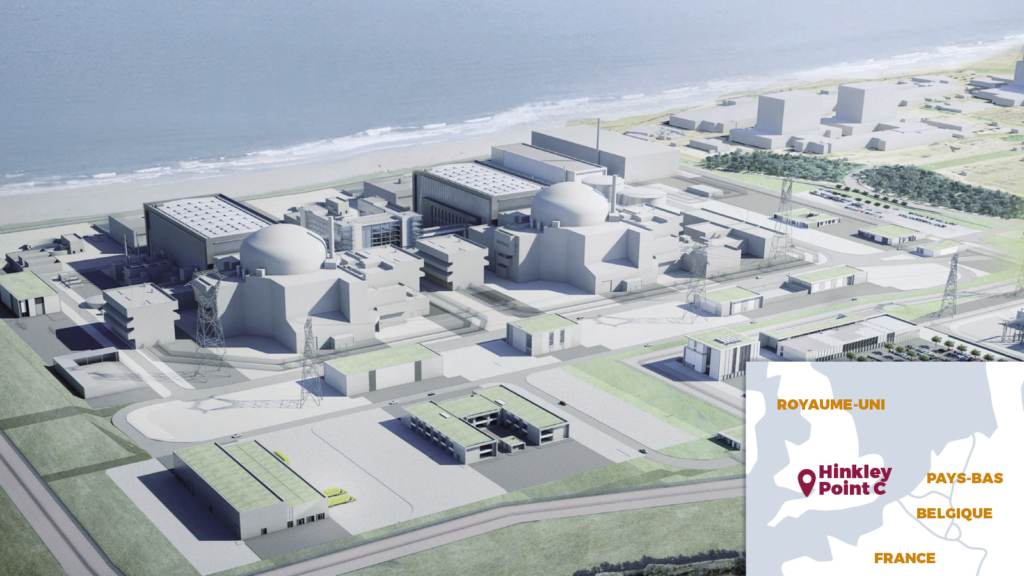 UK has to determine the means permitting the country to be totally sure that electricity resources will be available all over the coming decades.
Nuclear power is fundamentally the more important and suitable way selected by the government.
Currently, supply of nuclear electricity relies mostly on the aging AGRs of EDF Energy.
The Hinkley Point EPRs have to be ready to replace the AGR fleet scheduled to shut down progressively at the 2025/2030 horizon providing that security and safety continue to be satisfactory.
The ability of all actors to master political, commercial and technical issues is a paramount necessity.
The capacity of EDF to install the right and efficient management for HPC is indeed right now THE challenge!